contrAppunti - Review of books
contrAppunti, rubrica di recensioni

editor Francesco Galofaro
▸
Review of books
▸
New book announcements
Questo spazio non vuol essere una quarta di copertina alternativa rispetto a quella che già trovate in ogni libro. Oltre a segnalare le novità editoriali in campo semiotico man mano che giungono in redazione, nei limiti delle nostre forze tenteremo un dialogo critico col testo recensito. Niente facili stroncature, ma neppure apologie pubblicitarie. La recensione è intesa come contrappunto polifonico rispetto alla traiettoria testuale, ora rinforzandola ora contrastandola. Naturalmente, l'aggiunta di una nuova voce ad una fuga, per quanto armoniosa, non può essere scambiata per una semplice interpretazione della fuga stessa: pensiamo a Bach che riscrive Vivaldi nel terzo movimento del concerto BWV 596. In tutti i casi la speranza è che il risultato riesca utile all'autocomprensione della nostra disciplina e dei suoi sviluppi futuri.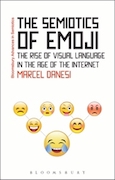 The semiotics of Emoji
di Marcel Danesi. Bloomsbury Advances in Semiotics, London-New York, 2017, pp. 197, $12.59.
Argomento: le emoji, evoluzione delle emoticons, e la loro interpretazione.
➞ PDF